Hi Community,
As some of you know, [mention:3fc0b949c35446ac80e21681d631d87e:e9ed411860ed4f2ba0265705b8793d05] is creating an amazing Zimlet to integrate ownCloud and Zimbra Collaboration, he started a crowdfunding campaign in the platform indiegogo, and you can still contribute to this amazing project. In Barry words:
Zimbra ownCloud Extension Zimlet
New crowd-funding effort from the developer of the successful Zimbra OpenPGP Zimlet
My goal is to develop a piece of high quality open-source software that adds integration of ownCloud to Zimbra. When the fixed funding goal is reached I will develop a Zimlet that allows you to:


Attach files from ownCloud when writing email in Zimbra


Save email from Zimbra to ownCloud


Expected release (for production) on or before January 2016.


No (recurring) license costs


Open-source and free software GNU GPLv3




What could it look like
When writing an email, click Attach -> Attach from ownCloud...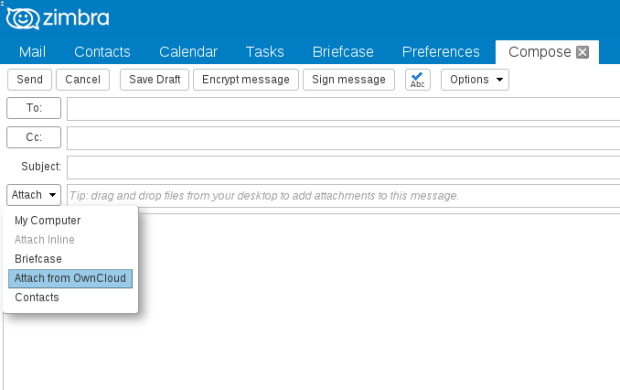 Select attachment from ownCloud: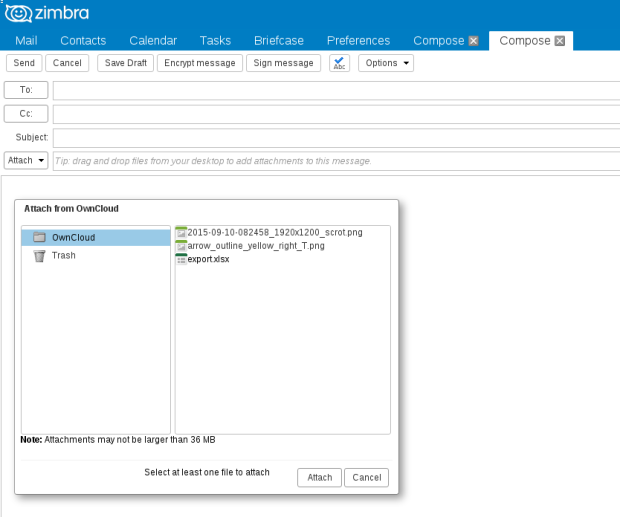 Or save your emails to ownCloud: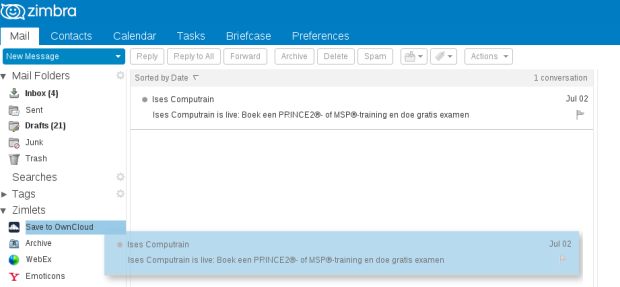 What is Zimbra
Zimbra is one of few full featured Email Collaboration Suites that is Open Source. It can be compared to Google Mail, Calendar but hosted at your company or in a private cloud.


I am an experienced Zimlet Developer and


An experienced Zimbra Administrator




What is ownCloud
ownCloud is a self-hosted file sync and share server that can be compared with Google Docs and Microsoft OneDrive . It provides access to your data through a web interface, sync clients or WebDAV.